Return to Headlines
It's Progress Report time!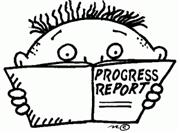 Parents,
Bettye Myers Middle School will not be printing Progress Reports or Report Cards. To see your students' grades, please make sure you have a HAC (Home Access Center) Account. The best part, you do not have to wait for Progress Reports or Report Cards to know how your student is progressing in their classes, HAC allows you to see their work as teachers post the grades. If you do not have an account, click the link below and fill out the form to create an account. If you have students at multiple schools, then you only need to do this once to see all students' grades. Once you have completed the form, please email it to the campus Registrar or fax to (940)498-0050.
Padres,
La Escuela Intermedia Bettye Myers no imprimirá Informes de progreso o Boletas de calificaciones. Para ver las calificaciones de sus estudiantes, asegúrese de tener una cuenta HAC (Home Access Center). Lo mejor de todo es que no tiene que esperar a que los informes de progreso o las boletas de calificaciones sepan cómo está progresando su estudiante en sus clases. HAC le permite ver su trabajo cuando los maestros publican las calificaciones. Si no tiene una cuenta, haga clic en el siguiente enlace y complete el formulario para crear una cuenta. Si tiene estudiantes en varias escuelas, solo necesita hacer esto una vez para ver las calificaciones de todos los estudiantes. Una vez que haya completado el formulario, envíelo por correo electrónico al Registrador del campus o al fax al (940) 498-0050.
Envía un correo electrónico al registrador del campus