Fine Arts
Empowering Artistic Growth
Return to Headlines
7 Students Selected to OAKE National Children's Chorus
The Organization of American Kodály Educators (OAKE) National Conference is an annual event occurring in a different city each year, bringing together music educators and clinicians over the course of four days and culminating in the performance of singers selected to participate in the National Choirs. There are four audition-based OAKE National Conference Choirs, each led by a nationally renowned conductor. Accepted singers will learn and memorize the music at home with their own teachers before going to the conference city.
Denton ISD is proud that seven DISD 5th grade students have been selected for the OAKE National Children's Chorus. They will be representing Denton and the State of Texas at the OAKE Conference in Portland, OR on March 7.
Blanton Elementary School, Nicolas Miranda, music specialist
Amelia Coker
Megan Gorman
Madoline Haddon
Olivia Johnston
Trevor Rennels
Isabella Walker
Sam Houston Elementary School, Christine Martin-Beutner, music specialist
Patrick Estes
OAKE's mission is to support music education of the highest quality, promote universal music literacy and lifelong music making, and preserve the musical heritage of the people of the United States of America through education, artistic performance, advocacy and research. OAKE's vision is the realization of a world where the power of music as a unifying, humanizing, and healing force is an integral part of the lives of the American People.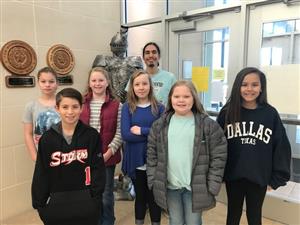 You're online. We're online. Let's connect.