Fine Arts
Empowering Artistic Growth
Return to Headlines
Middle School UIL One Act Play Awards
Congratulations to the Denton ISD MS UIL One Act Play Companies for their wonderful performances at the District UIL Contest on February 5-6, 2021 at Braswell HS. Every company produced an outstanding show. Teamwork and perseverance were the key words this season, as each school successfully mounted a production in the midst of a pandemic. Special thanks to Braswell High School Theatre Directors Ms. Michelle Greene, Mr. Ben Parker, and Mr. Clay VanWinkle and Ryan High School Theatre Directors Ms. Jeannene Abney and Mr. Scott Thompson for their collaboration in hosting this district wide event.
Click here to see a video celebrating each performance. https://youtu.be/nCGt_r1oUlg
Awarded Third Place and Best Technical Crew was Rodriguez Middle School (pictured below with Principal Ms. Carly Rogers) for their production of "The Book of Everything" under the direction of Ms. Kristen Ray and Ms. Annie Norrell. Significant about this award is this is the first time Rodriguez MS, which opened in 2018, has placed in a UIL One Act Play contest. Awarded on of two best performer awards of the day was Kodi Davis in the role of Thomas. We are so proud of their work, and the growth of this department!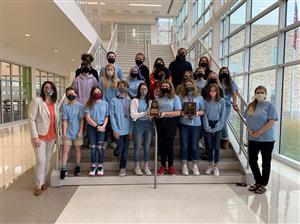 Awarded Second Place was Navo Middle School's production of Sarah Ruhl's "Eurydice" (pictured below with Principal Dr. Beth Kelly and Associate Principal Ms. Toni Goodman) under the direction of Jami Sauls and Carrie Stephens. This creative and heartfelt production was expertly staged, and we are very proud of the work of this company!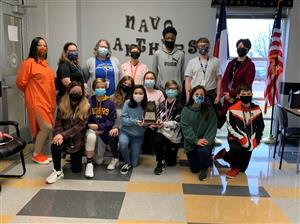 Awarded First Place was Harpool Middle School's production of "The Front" (pictured below with Principal Mr. Jeff Smith) under the direction of Ms. Amanda Hirsch and Ms. Heather Alverson. Awarded one of two best performer awards was Kierra Strauss in the role of Judith. This moving production exploring history, set during the Blitz in 1940's England, explored the timely theme of perseverance. We were thrilled by their excellent work!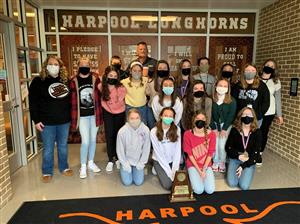 All Star Cast awards were earned by:
Shane McLaughlin in the role of Creon from the play "Antigone Now" directed by Mr. Chris Taylor of McMath Middle School.
Presley Nicewarner in the role of Eurydice from the play "Eurydice" from Navo MS.
Elliot Bush in the role of Alan from "This is a Test" directed by Ms. Erica Cole of Crownover MS
Trey Balentine in the role of Father from "The Book of Everything" from Rodriguez MS
Hunter Crain in the role of Jonas from "The Giver" directed by Ms. Cynthia Starnes from Calhoun MS
Darryl McMorris in the role of Salt from "Salt and Pepper" directed by Mr. Wyatt Kaiser of Myers MS.
Brinly Johnson in the role of Shelby from "Steel Magnolias" directed by Ms. Susie Dean from Stickland MS.
Bre Price in the role of Joan from "The Front" from Harpool MS.
Honorable Mention All Star Cast Awards earned by:
Katherine Simmons in the role of "Ismene" from McMath MS
Zane Decker in the role of Orpheus from Navo MS
Hadley Hamner in the role of Lois from Crownover MS
Jack Radar in the role of Asher from Calhoun MS
Sophia Bohnert in the role of Andy from Myers MS
Shula Armintor in the role of Ouiser from Strickland MS
Evangeline Trahan in the role of Pat from Crownover MS
Jose Garay in the role of The Giver from Calhoun MS
Outstanding Technical Awards were earned by:
Addyisn Copely, Stage Manager for McMath MS
Caia Wilson, Stage Manager for Navo MS
Lauren Dossett Assistant Stage Manager for Crownover MS
Morgan Cote, Stage Manager for Rodriguez MS
Jacob Gomez, Lighting Technician for Calhoun MS
Remy Butler, Stage Manager and Backstage Lighting for Myers MS
Piper Martin, Stage Manager for Strickland MS
Harper Robbins, Stage Manager for Harpool MS
Click here to see the award winners. https://youtu.be/lAkDBbK9nqA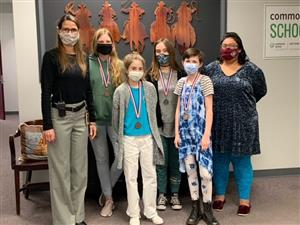 Pictured above: Principal Mrs. Charlene Parham, Director Ms. Erica Cole, and award winners from Crownover Middle School.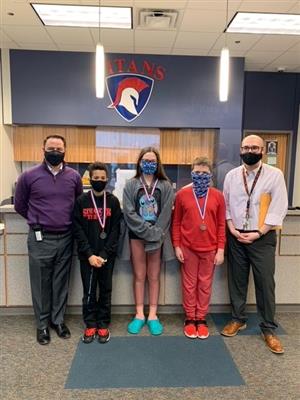 Pictured above: Principal Mr. Trey Peden, Director Mr. Wyatt Kaiser, and award winners from Myers MS.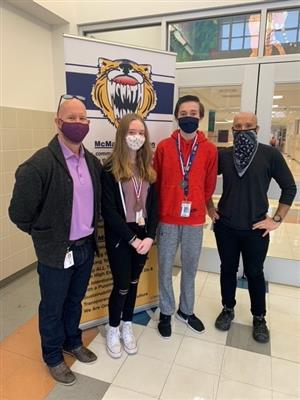 Pictured Above: Principal Dr. Buddy Dunworth, Director Mr. Chris Taylor and award winners from McMath MS.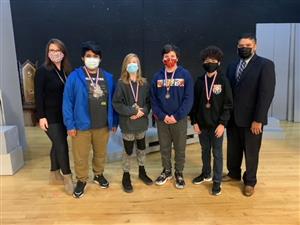 Pictured Above: Principal Mr. Paul Martinez, Director Ms. Cynthia Starnes, and Award Winners from Calhoun MS.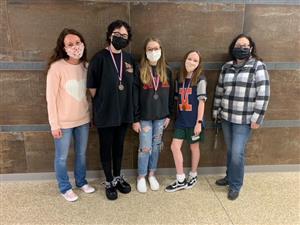 Pictured Above: Principal Ms. Kathleen Carmona with Director Ms. Susie Dean and Award Winners from Strickland MS.
Special Thanks to our expert adjudicator Ms. Missey Head. Mrs. Head, recently retired after 36 years in theatre education, served as the Assistant Fine Arts Director for Lewisville ISD for 8 years. 28 years were spent teaching in the Odessa, Victoria, Vanderbilt, and Carrollton school districts. She had the privilege of appearing at the state meet on 12 occasions placing 1st in 2011, 2nd place in 2003, 2004, 2006, 2007, and 2010, and 3rd place in 2012. Mrs. Head coached the National Forensics Dramatic Interpretation Champion in 2005, 2002, and the 1st, 2nd, and 3rd place Texas Forensic Dramatic Interpretation State Champions in 2005. Mrs. Head is currently serving as the Past-President for the Texas Educational Theatre Association and is a past member of the UIL Theatre Advisory Committee for 34 years serving as the chair and past chair. Mrs. Head continues to believe that with appropriate guidance, students can be motivated to succeed and excel.
Congratulations to all of our incredible Middle School Theatre Company members and directors. Thank you to Principals for their support of theatre and fine arts in Denton ISD.
You're online. We're online. Let's connect.