Phone: 940-369-1786
Email:
Degrees and Certifications:
Bachelor of Music Education University of North Texas
Ms.

Ortiz

Director of Orchestras, Kara Ortiz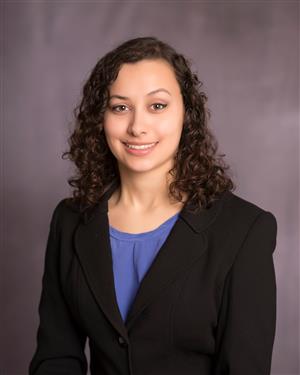 Kara Ortiz is the director of the growing Harpool Middle School Orchestra program. In addition to teaching at Harpool, she instructs beginner orchestra classes at Adkins, Blanton and E.P. Rayzor Elementary schools.
Ms. Ortiz grew up in El Paso, Texas where she graduated from Franklin High School and studied viola with Gene Alvillar and Susan Hernandez. She was principal violist and selected as a participant of the Honors Program in the El Paso Symphony Youth Orchestras' program, one of a handful of international youth symphonies in the United States. Ms. Ortiz was invited to attend Conservatory Music in the Mountains during the summer of 2007 where she studied with Dr. Misha Galaganov. In the summer of 2008, she attended Rocky Mountain Summer Conservatory where she performed and studied solo works and chamber music under the direction of Nancy Buck and Jonathan Swartz. Ms. Ortiz auditioned and was selected to be a participant in the 2009 TMEA All-State Philharmonic Orchestra.
Ms. Ortiz graduated Summa cum Laude from the University of North Texas in May of 2013 where she studied viola with Dr. Susan Dubois and Dr. Daphne Gerling. As a music education undergraduate student, she was provided with the opportunity to study abroad at the Carl Orff Institute in Austria and the Zoltan Kodaly Pedagogical Institute of Music in Hungary. During her time at the university, she performed with the Symphony, Chamber and Opera orchestras. She spent much of her time as an instructor in the university's String Project program for Denton area children and teaching viola students. Ms. Ortiz was also a member of the UNT College of Music Dean's Student Advisory Council and was inducted into the Pi Kappa Lambda music honor society. She completed her student teaching in Denton ISD under the direction of Carmen Wiest at Harpool Middle School and E.P. Rayzor Elementary and under Michelle Hanlon at Guyer High School and McNair Elementary. In her brief moments of spare time, Ms. Ortiz enjoys hanging out with her cat, playing video games, dancing and playing any instrument she can get her hands on. She loves being a member of the Harpool family!
_________________________________________________________________________________________________________________________________
Assistant Director of Orchestras, Ryan Napier

Ryan Napier is the Assistant Director for the Harpool Middle School Orchestra program. In addition to teaching at Harpool, he instructs beginner orchestra classes at Adkins, Blanton, and EP Rayzor Elementary schools.

Mr. Napier was born in Tampa, Florida, but grew up in Flower Mound, Texas, where he graduated from Flower Mound High School. During that time, Ryan studied double bass privately in Denton with Dr. Gudrun Raschen and attended the Bass and Cello Conservatory of Dallas. He went on to pursue a music education degree at the University of North Texas, where he graduated Magna Cum Laude in May of 2015. While at North Texas, he studied double bass under Jeff Bradetich and orchestral excerpts with Brian Perry. In addition to double bass, he has taken secondary lessons on violin, viola, and played cello since high school. He was also a member of the Phi Tau chapter of the professional music fraternity, Mu Phi Epsilon. During his time in the organization, he served on a variety of different committees, sang in the choir, participated in their "Boomwhackers" percussion ensemble, and performed in their jazz band and symphonic band on double bass. He was also a Volunteer Tutor through the UNT Learning Center, where he tutored music theory and math classes to undergraduate students of all majors. In October of 2013, he participated in a faculty led study abroad trip to Hungary, learning about about Hungarian culture and teachings of renowned music pedagogue Zoltan Kodály, and again in October of 2014 to Austria, where they learned about Austrian culture and the music pedagogue Carl Orff. He completed his student teaching in Denton ISD under the direction of Angela Harvey at Crownover Middle School and Hawk & Nelson Elementary schools and under Michelle Hanlon at Guyer High School and McNair Elementary.

As a performer, Mr. Napier has played in the UNT Concert Orchestra under direction of Dr. Clay Couturiaux, the North Texas Wind Symphony under direction of Eugene Corporon, and the UNT Symphonic Band under direction of Dennis Fischer. He gave a Senior Recital, where he played an unaccompanied bass piece in the style of a Bach Cello Suite, a baroque work accompanied by piano, and a romantic chamber piece accompanied by viola. During his time at UNT, he was a part of three recording sessions with the two wind ensembles, all released by GIA Publications. Since beginning college, Ryan has sought to expand his musical horizons and has played electric bass, double bass, and cello with a wide variety of groups at venues in the Dallas Metroplex area, Oklahoma, and East Texas. As a covenant member of Christ Community Church of Denton, he regularly plays bass in the worship band and is also a member of the band "the Loverlies". He previously taught private double bass and cello lessons for three and a half years in the Lewisville Independent School District, was a teacher in the UNT String Project, and in his last semester of classes, worked as the Assistant Music Director at Denton Calvary Academy.

Mr. Napier holds professional memberships with Texas Music Educators Association, American String Teachers Association, International Society of Bassists, and Pi Kappa Lambda National Music Honor Society. He also holds International Tutor Training Program Certification from College Reading & Learning Association and Music EC-12 Certification through the state of Texas. In his free time, he enjoys the outdoors, reading, coffee, traveling, and spending time with his wife, who teaches in Denton ISD as well.



Last Modified on September 29, 2017