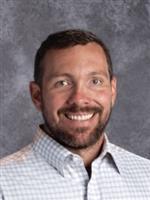 Phone:
Email:
Degrees and Certifications:
Mr.

Ronnie Watkins

I am truly blessed to have a career serving Denton ISD families as Principal of The Lester Davis School!

My family moved to Denton when I was in first grade. I attended Newton Rayzor, Evers, Strickland, DHS (freshman center), and then graduated from RHS. As I look back on those years attending Denton ISD schools, I am thankful for teachers and administrators who had faith in me when I did not have faith in myself. Teachers and administrators who saw my mistakes (many, many mistakes) as opportunities for growth, not as reasons to give up on a developing kid.

I often say in our orientations that if DAEP would have existed when I was in school, I would have been a prime candidate for a placement several times. I, like most, have made plenty of mistakes along the way.

I am proud to say that our program serves 40+ campuses district wide. Each member of our team has qualities like the teachers and administrators that got me to a HS diploma!

Call for community support!!!

If you are interested in providing any support for our program, whether it is a service you can provide, money or goods you would like to donate, or your time, please do not hesitate to contact me.