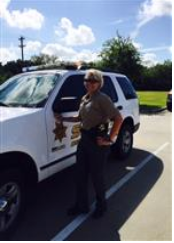 Phone: 940-369-1716
Email:
Degrees and Certifications:
Deputy K. Wilkinson

About Me: I am Deputy Kady Wilkinson the School Resource Officer(SRO) at Harpool Middle School. A school resource officer is a certified law enforcement officer within the educational environment. The partnership between the Denton Independent School District and the Denton County Sheriff's Office allows me to work closely with the school administration, staff, and students to provide a safe learning environment, law related education, and the expertise of a trained law enforcement officer on all Lantana campuses. I strive very hard to keep our campuses safe with up to date training for staff and students and implimenting new programs within the Lantana community. I frequently visit the elementary schools in the area and meet with their administrators of various safety topics and planning.

I have been with Denton County Sheriff's Office for over nineteen years. This is my 12th school year as Harpool's SRO. I have many certifications including Texas Commission on Law Enforcement Instructor, Firearms Instructor, 1st Aid and CPR Instructor, and LTC Instructor, Rape Agression Defense Instructor (RAD) just to name a few.

I am married to a wonderful man and we have an awesome son. My son is a junior and and keeps us very busy in his activities. As a family we love to travel and spend time outdoors. We go camping, kayaking, and hiking every chance we get.

I look forward to working with and getting to know all of the students here at Harpool Middle School. If you have any questions or concerns please feel free to call me or send me an e-mail.