Woodrow Wilson Elementary
1306 E. Windsor Dr.
Denton, Texas 76209
940-369-4500 Fax 940-369-4933
2013-14 Kindergarten Registration opened May 8, if you were not able to make it please come by the office any day through June 6 from 7:30-3:30 to begin the process. The office will reopen for registration for all students on August 1 after the summer vacation. We will have a Mustang Roundup Day on August 8 with PTA for all new and returning students to register from 7:00-7:00.
Our Federal Accountability information based on Adequate Yearly Progress (AYP) is available. A copy is available in the office or click here.
We had a great turn out at our Spanish Night at El Matador in February. We had 197 students, parents, and friends represent Woodrow Wilson. We look forward to our Next Dual Language Event that will be held here at Woodrow Wilson. April 4th will be our Spanish Movie Night where we show a fun movie in Spanish with English subtitles.
Wilson's mission is to partner with families and community to prepare our children to become productive members of society by meeting the needs of the whole child. We will provide an educational foundation that supports all students in developig the skills needed to become lifelong learners and meet the challenges of our rapidly changing world.
Maintain high standards and expectations for students, parents, and staff.
Establish a culture of academic rigor that is innovative, research based, and student centered.
Actively recognize and celebrate effort, achievement, and success of all members of our school community.
Cultivate a climate of caring, acceptance, and respect.
Wilson Alumni Senior Celebrations Class of 2013
Matthew Griffin-Signed a scholarship to complete a degree and play football at
Texas A and M Commerece
National Semifinalist based on PSAT
National Merit Commended on PSAT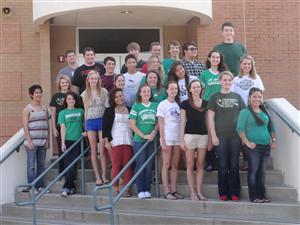 RHS Class of 2013 Wilson Alumni gather for a picture.
You guys were born to be AWESOME!
Congratulations to the Prom Queens at Denton and Ryan High School. Kathryn Bauswell was selected as Denton High's Prom Queen and Hannah Shade was selected as Ryan High's Prom Queen. We love that you both are Wilson Alumni!