"PROJECT EIC" FAQ

I heard there were articles in the newspapers. Where can I find them?
What questions do you want to ask our students, our students' parents, our business and community members, and our Denton ISD educators?
• What is school for?
• What matters to you? (As in…what's really important to you?)
• Why do you do what you do? (Why are you a student, parent of a student, a board member, a civic-minded community/business member, an educator, a teacher, a counselor, an administrator, etc.?)
• Why are you here? (I don't mean Planet Earth…I mean here in Denton ISD.)
• What is success? (What does it look like?)

How will you get these questions out to the target audience?
Our intent is to focus on social media (such as Facebook Twitter, YouTube, etc.) , but rely on traditional media and other forms of communication as well. We want as many stakeholder involved in the process as possible.
What else will "Project EIC" involve?

We're looking to add projects to Project EIC. Check out the
Bing and Jay-Z Decoded Case Study
. I can see our district and community work to recreate our history in a modified form of what was done with Jay-Z's autobiography, Decoded. There are other ideas in the works such as YouTube videos, etc. Be looking for more info. It's going to be F.U.N.
When will "Project EIC" launch?

First, it was vital to seek guidance from the Board of Trustees. With the blessing of the board during the meeting held of 4/17/2012, the project was revealed to the Denton City Council on 5/7/2012. The project was then featured on the front page of the Denton Record Chronicle on 5/8/2012 in a story titled, "
School district to revisit its roots
". The article was followed with the editorial, "
Project could improve schools
".
The project will offiically launch on Sunday, September 30, with an editorial written by Dr. Jamie Wilson, Superintendent, which can be found at
http://www.dentonrc.com/opinion/columns-headlines/20120929-jamie-wilson-help-form-disds-future.ece
and in The Cross Timbers Gazette at
http://www.crosstimbersgazette.com/opinion/2739-our-schools-our-future.html
.
Speaking of "unveiling", there's been mention of rebranding the Denton ISD logo. When will that happen?

That question is asked often after people found the "teaser trailer",
Rebranding the @dentonisd Logo
, video on YouTube. Having reviewed Harvard University's
Role of Brand in the Nonprofit Sector
, a research project that examines the role of nonprofit brands that introduces a conceptual framework designed to help nonprofits more strategically leverage their brands to advance mission and impact, we know it's important to first determine our mission, vision, and values. Once established, the logo should reflect the mission, vision, and values of Denton ISD.

How much is this going to cost the taxpayers?
By using social media, the idea is to solicit open-ended feedback for free. Additionally, members of the EIC serve after hours; and what you've seen or read on the development of "Project EIC" has been created over numerous weekends and weeknights.
Any other thoughts?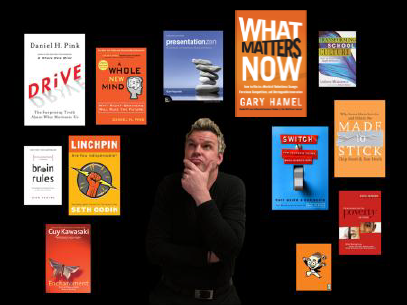 Change has changed.
We are in a critical time of history. The age of farms and factories and even information worked for a while, but everything has changed. What worked yesterday does not necessarily work today.
Organizations fail when they over-invest in "what is" at the expense of "what could be." Executives often say, "This is how our industry work." My stock reply: 'Yeah, until it doesn't." Truth is, every organization is successful until it's not. In a world of unprecedented change, there's only one way to protect yourself from creative destruction—do the destructing yourself."
1
"Average is officially over because, you see, every employer today has in this hyper-connected world access to above-average computer software, robots, and not just cheap labor, but cheap genius, from so many different places. So Woody Allen's observation that 90 percent of life is showing up is, as they say, N/A, no longer applicable. If you just show up to your job and do average, whether you are a lawyer, an accountant, or a butcher, a baker, a candlestick maker, there is a machine, a software, a robot, or a foreign worker now that is so much more quickly, cheaply, and easily available to take you out. So you had better be a creative creator or a creative server."
1
We have to say goodbye to the knowledge economy and say hello to the creative economy. A new breed of worker and leader are now required...people who are creative, good at connecting with others, and able to see solutions like no one else. Indispensable.
2

We are at a "tipping point" in education. With competition from private schools, charters schools, home schools, and virtual schools; with education funding in a crisis of epic proportions; with new, yet inefficient, assessment systems; and with the shift toward globalization, it is time.
As our ancestors proved in shifting from the agricultural system to the industrial system, we can do it, but we must be willing to adapt. That's why we need to change the way we change.

1 From What Matters Now: How to Win in a World of Relentless Change, Ferocious Competition, and Unstoppable Innovation by Gary Hamel (Hardcover - Feb 1, 2012)

2 From Linchpin: Are You Indispensable? by Seth Godin (Hardcover - Jan 26, 2010)