Denton ISD Transportation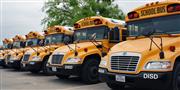 ---
Students must be registered for transportation services each and every school year.
For the 2017/18 school year, registration for bus services will be done via InfoSnap at the students campus.
Bus information will be emailed to the parent before the start of the new school year. This information will also be available in the Home Access Center. All students are also required to have a bus access card. Cards kept in good, working condition can be used from school year to school year.
Bus access cards cannot be purchased until the student is registered for bus services.
The objective of the Denton ISD Transportation Department is to provide safe, efficient and dependable transportation for the students and parents of the district. We recognize that this is an important service within the educational system. As members of the Transportation Department, we will conduct ourselves as professionals, dedicated to caring for the people we serve.
We will also serve to be progressive in thought and action as we plan for the present and the future. We must do our part willingly and unselfishly. Working together, we will provide the safest and best service possible. When this is accomplished, we can be proud of the contribution that each of us has made in preparing our students for the future.
---
Driving to the Denton ISD Transportation Center? We're located next to Ryan High School. After entering the school's parking lot, make a left at the "T" juncture directly in front of the school's entrance and head straight to arrive at our location.
Click here for directions on Google Maps
.
Central Location East Location
5093 E. McKinney St.
1701 Navo Rd.
Denton, TX 76208 Aubrey, TX 76227
940-369-0300 972-347-7649